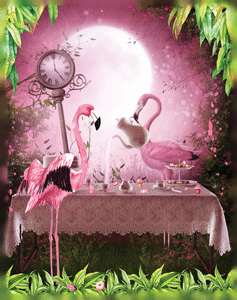 75.5cmx 59.9cm
Hokus Pokus Decor-Weave designs will inspire you to up-cycle your preloved furniture from drab to fab !They are highly detailed expressions of art that can be applied to natural wood , painted furniture, or a smooth surface of your choice.

Instructions for application

1. Clean and prepare your surface and ensure it is smooth for application of your Decor-Weave
2. Remove the weave from packaging and use a cool dry iron setting ( no steam) , gently iron the back of your weave to remove any fold lines.
3. Paint natural or similar colours onto your piece where you will apply your weave. Some of the weaves are more see through than others, so painting a neutral base will help with transparency.
4. Apply a water based sealer to adhere where your weave will be applied.
5. Gently smooth your Decor-Weave down using your hands or a brayer, ensuring no air bubbles or creases. Take your time and do a small section at a time.
6. Once it is completely down allow time for it to dry completely
7. Once dry you can paint around the edges and over the weave to ensure a seamless look to your piece
8. Once satisfied , apply a good quality sealer over the weave and your whole piece . 1-3 coats is recommended for protection.
9. For an extra smooth finish you can lightly sand after your final clear coat.