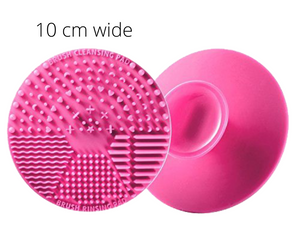 A high-quality paint brush scrubber that every painter needs. This high-quality silicon product is a great and easy product to use.  It helps to get out dried paint in the brush.
Product is 10 cm in diameter.
Instructions:
# Wet brush under running water
# Rub brush in a circular motion around the silicon surface until all paint is removed. 
# Leave brush and paint scrubber to dry (paint scrubber has a suction cap on the back for easy storage in the sink or on the side of your paint box.
A video of using this product can be found at https://fb.watch/foY93zB1t9/
or at FB SECOND TIME ROUND NSW